Sun Sculpt Body Contouring offers the most advanced and very latest in body sculpting technology. At Sun Sculpt we aim to provide you with personalised treatments based on your individual needs in a relaxing, welcoming environment. Located in the beautiful MD Cosmetic and Skin Clinic in Maroochydore, you will feel pampered from the moment you walk in.
Emma Wallace is a Registered Nurse with a special interest in body contouring and aesthetics. After 25 years of experience in many areas of nursing, she became interested in aesthetics and completed the ACMAS Diploma of Cosmetic Injecting for Doctors and Nurses in early 2017 and started her own successful practice. In 2020, she discovered the Cutera truSculpt ® devices and is excited at what this technology can provide.
You've worked hard. Now see how truSculpt ® Body can help you achieve your goals.
The most advanced Body Sculpting Technology On The Sunshine Coast.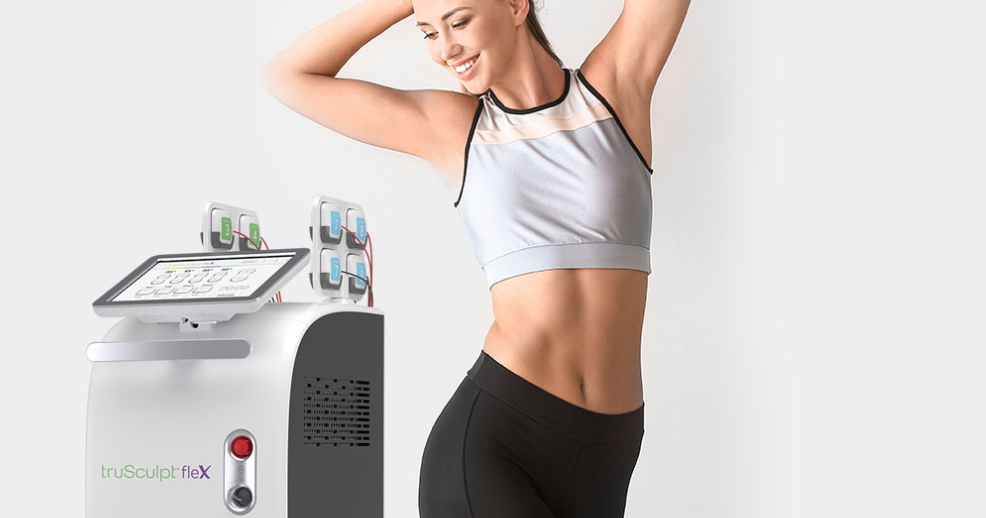 The truSculpt ® iD and truSculpt ®Flex Systems deliver the latest in non-invasive body sculpting technology. Diet and exercise are sometimes not enough to eliminate stubborn, unwanted fat deposits – non-invasive Body Contouring can assist with areas like the stomach, love handles, arms, and thighs. 
Sun Sculpt Body Contouring is the exclusive home of the truSculpt ® iD and truSculpt ® Flex on the Sunshine Coast. 
Wow ... the truScluplt Flex and truSculpt ID machines have changed my body shape to what it was 40 years ago!! 4 sessions on the Flex have strengthened my core, flattened my stomach and improved my posture.

The ID has shaped my belly and flanks ....something that dieting never seemed to be able to do no matter how many abs crunches I did. An added bonus of my improved core strength is that I am hitting my golf ball at least 10% further!!
David Bird
The True Sculpt Machines definitely works
After shoulder surgery , not being able to use my arms for months the muscles wasted away. My arms had turned into " Tuck-shop arms ". It was difficult to regain the strength because of the pain still in my shoulder , I was unsure how hard to push it without doing more damage than good.

I decided to give the Flex Machine a try and it was the best decision I could have made. Instantly after the first session my arms felt stronger , the pain in my shoulder was cut down by about 90%. To me it felt as if it was a deep massage that broke up underlying scar tissue . After just 1 week and 2 treatments I was able to perform the heavy physical tasks at work, no longer needing to hire people to do the work that I was unable to do. Now after only a couple of weeks ,without ever lifting weights , I feel like a Teenager with his Guns back.

All the time not being able to exercise also left me carrying a fair bit more weight around the stomach . I had 4 treatments of Flex at the same time as my arms and shoulders , the results were just as great. When I was experiencing how effective the Flex machine is , I decided to try out the ID machine on a couple of stubborn spots that the fat just stays regardless of the situps and crunches . It's still early but it is definitely working , my abdominal's are rock hard. I recommend this treatment. It has great results without any hard work or muscle soreness .
Miss Tasia
Private Executive SuperYacht Chef
After having treatment with Emma for both Tru sculpt flex and Tru sculpt ID, I noticed an exceptional difference instantly! I'm amazed at how immediate the results are. Getting in just in time for the summer season with a bikini body that looks great, fit and young again thanks to Tru sculpt ID.

I was informed by Emma that Tru sculpt flex has had remarkable results for post surgery operations and hoping to fit in another session to strengthen my shoulders and biceps following a 3rd operation.

Fingers crossed the results bring my shoulder to full capacity again and I'll be chopping my way around the world with my career. Thanks Emma
truSculpt ® iD and truSculpt ® Flex Treatments